About Greenleaf Innovations Ltd
About Greenleaf Innovations
About Maciek Kawecki
About Chris Kawecki
Last modified on 2014-09-12 10:38:42 GMT. 0 comments. Top.
Greenleaf Innovations Ltd was founded in 2010 by Maciek Kawecki and Chris Kawecki, a Father and Son team. Their view was to help Britain build a sustainable future through energy efficient design, quality construction and the appropriate application of renewable technologies in buildings.
Sustainable Energy, Sustainable Building, Sustainable Future
Greenleaf Innovations Ltd help our clients become more resilient to fuel price rises, to construct healthy, quiet, low energy buildings and to live a green, more sustainable life. As well as offering a range of renewable energy products we are one of the few contractors in the UK with Passivhaus Designer knowledge.
Going Green with Greenleaf Innovations Ltd
We are committed to the promotion and uptake of sustainable energy solutions where sensible and feasible and frequently help promote other ethical companies that we believe in. As such we have strong partnerships across the country with some of Britain's leading environmental companies. In addition we have an affiliate scheme with Good Energy (who provide 100% renewable energy) whereby any Greenleaf Innovations customer that joins Good Energy via our referral will receive £50 from Good Energy!
Affordable Technology for All
Greenleaf Innovations Ltd offers you the latest technology in order to make sustainable solutions both realistic and accessible for all. Whatever the application, be it a domestic refurbishment or a new commercial property, we can provide a solution. In most new build cases, we can usually offer an extremely energy efficient Passivhaus building for the same build cost as a more standard construction. When construction costs are the same but there are huge savings to be had on bills then the sustainable solution is not only the most sensible but also the most economical.
Innovative Thinking
At Greenleaf Innovations we look to the future and are constantly developing new research and practical building solutions. We work closely with academia and utilise innovative techniques such as soil rehydration (for Subsidence issues) and hydrovacs for neat, minimal disruption ground works.
Our services in the South West (Bristol, Gloucestershire, Wiltshire and Somerset) include:
Domestic solar panel installation
Domestic ground source heat pump installation
Our services nationwide include:
Commercial solar panel installation
Ground source heat pumps for landlords and social housing
Passivhaus design and build
Subsidence remediation and repair including tree root barriers
Last modified on 2014-08-28 14:28:39 GMT. 0 comments. Top.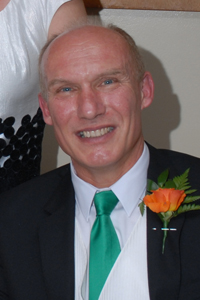 Maciek obtained a Mining Engineering degree at Cardiff University School of Engineering before completing his PhD in soil and rock mechanics. With both a doctorate and chartered status, he accepted an opportunity to lecture at Perth University, Australia whilst continuing to undertake further research. His projects revolutionised underground coal mining in Australia at the time.
With a young family, Maciek made the choice to move back to the UK in 1990 and quickly found employment as an Engineer/Loss adjustor in the Subsidence Industry. He formed Subsidence Management Ltd in 1996, a company that he continues to run with Ron Packman, Director of Packman Lucas, a prestigious firm of consulting engineers in London, whose projects include the London 2012 Olympic Cauldron.
Maciek's expertise was quickly recognised by councils and housing associations nationwide and he has managed and negotiated some of their most difficult Subsidence claims. In 2000 Maciek was made an Expert Witness of the Law Society, a status that he continues to hold and is often called upon.
Subsidence Management Ltd has developed several innovative Subsidence remediation and groundworks techniques for subsidence problems including comprehensive designs of tree root barriers, soil rehydration techniques and safe excavation of basements under existing buildings.
In 2010 Maciek formed Greenleaf Innovations Ltd with Chris and has applied his expert knowledge of geotechnics to renewable technology. This has proven particularly useful in designing strong foundations for ground mounted solar photovoltaic arrays and for borehole collectors of ground source heat pumps.
In addition to GIL, Maciek continues to run Subsidence Management Ltd whose primary source of work comes from working with insurance companies to manage the Subsidence claims of local councils and housing associations. SML operates Nationally and has worked for both Bristol City Council and South Gloucestershire Councils.
Maciek is a Member of Institute of Mining Engineers, has a PhD, is a Chartered Engineer and is an Expert Witness of the Law Society.
Last modified on 2014-10-24 08:12:40 GMT. 0 comments. Top.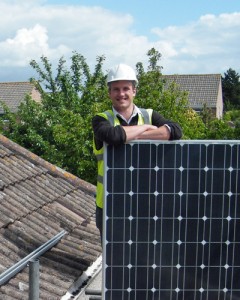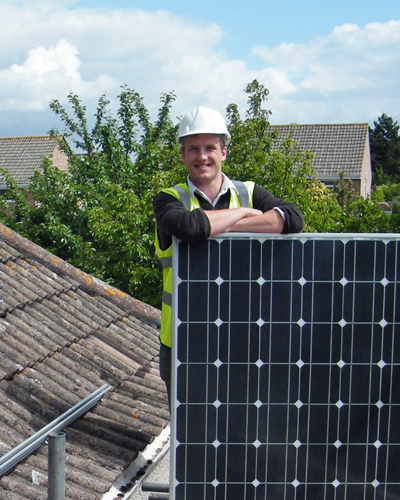 Also alumni of Cardiff University School of Engineering, Chris graduated in 2010 with a degree in Civil and Environmental Engineering. Knowing that he wanted to commit himself to renewable technology, Greenleaf Innovations Ltd was formed.
Since forming the company Chris has continued his education by obtaining both trade qualifications (ground source heat pumps installation, unvented cylinders, general plumbing, electrical installations, Solar Photovoltaics and electrical inspection and testing) and further professional qualifications. In 2012 he attended the challenging CEPH (Certified European Passivhaus De-signer) course at BRE in Watford and intends to be a qualified designer to a worldwide standard for Passivhaus in 2014. To complement the extraordinary levels of quality management required to deliver successful Passivhaus projects Chris is also undertaking the Prince2 qualification in Project Management.
Chris is GIL's renewable energy expert and as such is the qualified MCS supervisor for the company. He has developed GIL's Quality Management System to exceed MCS requirements and has ensured that the company was certified first time with no non conformities by the accreditation bodies that GIL has worked with (BRE and Benchmark).
In addition, Chris has turned his knowledge to furthering developing technologies. Working with UWE and various partner companies as a Solar industry partner, Chris has led consortiums to win INET research funding and been the industry expert to access TSB project development funding. Chris has many ideas for how to develop renewable energy further and firmly believes in the company adage of 'Renewable Energy for All!' In addition Chris led a consortium bid between Architects and Engineers to the semi finals in the Vanke House competition with the BRE, a collaborative knowledge exchange project between China and the UK. However, following discussions with Vanke representatives the consortium agreed that the benefits of the project were of limited benefit compared to the investment required.
In addition to GIL, Chris is involved in two other companies. He runs Pure Chaos Agility with his Wife, Charlotte, from the family farm near Westerleigh and is currently developing a social enterprise with the charity Props which aims to provide vocational education and skills for young people with learning difficulties in the South Gloucestershire and Bristol regions.
Chris is a corporate member of the Society of Environmental Engineers and will be applying for Chartered Environmentalist status with SocEnv in 2015.